GoBanking provides secure 24-hour access to your accounts. Within GoBanking, you can take charge of all your accounts from the convenience of your own home.
Features
GoBanking is easy, secure, and there's no software to install on your computer.
With GoBanking you can:
View real-time account activity and balances
Schedule transfers to or from your Tri-County accounts
Stay informed of your account balance and activity with email Alerts
Initiate stop payments on checks
Make payments to and view balances for personal and mortgage loans
View and print images of cleared checks
Sign up for and view GoStatements
Mobile Banking
Mobile Deposit - Deposit checks directly from your mobile phone.
You have the freedom of accessing your financial portfolio with Tri-County 24/7!
Click here to register today for GoBanking!
Already signed up? Login here.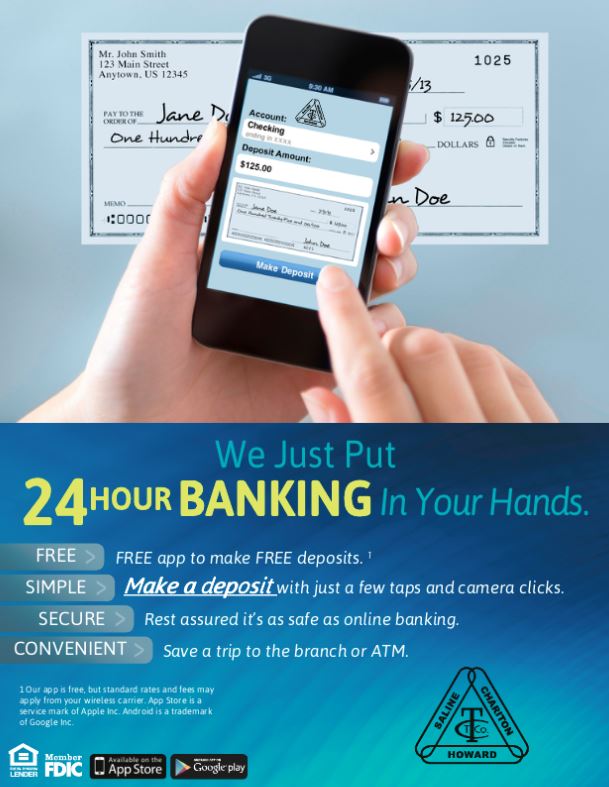 Start Mobile Banking Today It's Safe.
It's Easy. It's Convenient. It's FREE.
Use Your Mobile Phone to:
Locate our ATMs

Check balances

Make transfers

Pay bills

Get a recent transaction summary

To text and receive messages about your account

Mobile Deposit - Use the Tri-County Trust banking app and smart-phone camera to snap a picture of the front and back of a paper check, then electronically and securely deposit it into your account. You save time and hassles by not traveling to a bank branch and not waiting in a teller line.
To Sign Up for Mobile Banking
Download the app from Google Play (Android) or App Store (choose the iPhone app, it will work with the iPad also)
Open the app on your phone.
Enter the same User ID and Passcode that you use for online banking with Tri-County Trust. (If you do not have online banking you will need to enroll before using your mobile app.)

Download at the Apple App Store

If you wish to make a change to your login or accounts, please contact us at 660-338-2234. Username and password information may be deleted upon request. Information such as your usage history, account information, and banking activity will be retained in compliance with regulatory guidelines.